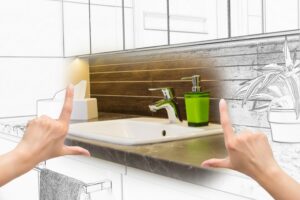 Your bathroom either doesn't function or doesn't look the way you want it to, right? That's why you've decided to read a blog post dedicated to bathroom remodeling, we'd guess. Bathroom remodels are big jobs, and can be really fun when you start seeing the results! As the most used room in the house next to the kitchen, it makes sense that you want to spruce up the space.
But when it comes to the plumbing fixtures within your bathroom, it really pays off to work closely with an experienced and qualified plumbing contractor. The level of care we can help you take in planning and prepping for your remodel will make a huge different in the results. In fact, it can ultimately help you save money.
Homeowners who forgo the professional route for a DIY method unfortunately tend to run into a few problems if they're not well prepared. Read on as we uncover the top 3 mistakes we see folks make when it comes to their bathroom remodeling job.