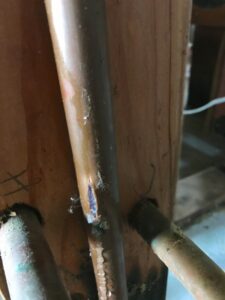 If you've lived here for even just a year, then you know that even though we don't get the bitter weather that our neighbors in the Midwest get, our winters still pack a punch! We're still likely to have below-freezing temperatures when winter is upon us, at least at night. This of course means you want to be set up with an effective and efficient heating system to keep you and your family warm. But what about keeping your plumbing warm?
Take a moment with us to consider this–is your plumbing system ready for freezing temperatures? It's easier than you might realize for your pipes to freeze up in cold weather. And the problem isn't necessarily that they freeze, but what happens when they begin to thaw–they burst. Fortunately, it's not winter yet, and you have plenty of time to prevent this problem from happening. That's right, it is preventable!
We want to help you avoid a plumbing mishap this year, read on for some tips on how to do so.