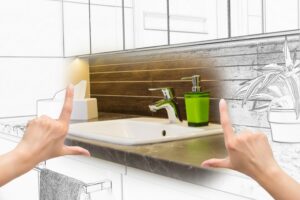 Your bathroom either doesn't function or doesn't look the way you want it to, right? That's why you've decided to read a blog post dedicated to bathroom remodeling, we'd guess. Bathroom remodels are big jobs, and can be really fun when you start seeing the results! As the most used room in the house next to the kitchen, it makes sense that you want to spruce up the space.
But when it comes to the plumbing fixtures within your bathroom, it really pays off to work closely with an experienced and qualified plumbing contractor. The level of care we can help you take in planning and prepping for your remodel will make a huge different in the results. In fact, it can ultimately help you save money.
Homeowners who forgo the professional route for a DIY method unfortunately tend to run into a few problems if they're not well prepared. Read on as we uncover the top 3 mistakes we see folks make when it comes to their bathroom remodeling job.
1.     They Do Not Correctly Measure for Toilet Placement
Do you know what a toilet rough-in is? It's okay if you don't—not many people do! But it describes the measurement that determines the distance between the bolt caps of the toilet and the finished wall. The standard in most modern U.S. homes is 12 inches, however this can vary depending on how old your home is, among other factors involving your home's construction.
2.     They Do Not Properly Vent Drains
Ventilation is vital. The sink trap under your bathroom sink, for instance, can be sucked dry. As a result, it won't properly function as a barrier between the bathroom and sewer system. It doesn't take a big imagination to figure out why this one might be a pretty big, and gross, problem.
3.     They Do Not Correctly Slope the Shower Floor
The masonry that makes up your shower floor has to be slanted in just the right way. If it's not, then water cannot properly drain. This means you'll have perpetual standing water in the shower or bathtub at all times. This can lead to unhealthy mold and mildew growth.
Bathroom Remodeling Advice
This next tip we're going to share isn't a mistake people make per se, but rather just some advice to keep in mind.
We understand that many homeowners plan a remodel because they don't like how their space looks. Remodeling gives you a fantastic opportunity to change the aesthetics of your home. But you shouldn't let this desire to have a great looking bathroom overcome the practical needs of the space.
In other words, we are advising that you consider practicality before aesthetics.
You'll want to be able to easily access and use your sink, toilet, shower, and any cabinetry that's in your bathroom. You also may find that you want lots of counter space for toiletries. It's important to plan for your specific needs of the space before starting a remodeling project. In fact, this is a great reason to give the pros a call before you get started—we'll help you consider everything!
Contact Brooks Plumbing Co. today for expert service on your bathroom plumbing in Tumwater, WA.