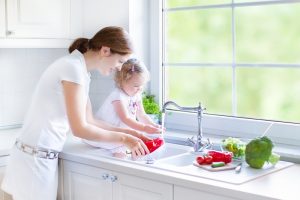 If there is one plumbing fixture that you use above all else, it's your sink. So, whether it is your kitchen sink or your bathroom sink, you want it to look good! Replacing a sink is a great way to transform a space and increase its functionality, so of course, you want to make sure that you consider all your options before you go forward with purchasing a new sink.
There are a number of factors to consider before you install a new sink, and below, we've listed some of them for you. All you've got to do is keep reading to find out more! (And of course, remember to call us for your sink plumbing in Tenino, WA.)
Some Things to Consider
There are a number of things you want to consider when installing a new sink in your home, including:
1. Match the Pattern of the Surrounding Furnishings
If you install a steel sink in a kitchen or a bathroom with an ill-matched motif, it's not going to look right at all. And since a sink sees a lot of use and is designed to last for decades, you'll have to live with that mismatch for a long, long time. Before beginning operations, get a good idea of the other appliances in the space, as well as the aesthetics of the nearby countertop and similar details, then find a sink that matches them completely.
2. Check the Holes
Some sinks have just a single central hole where the faucet itself sticks out. Others have multiple holes – usually three, covering the faucet itself. Don't forget the hot valve and the cold valve. When installing a new faucet, you want to make sure the holes in the new sink match the configuration of the old one. If not, your plumber should be prepared to make the necessary adjustments to keep your new sink working as it should.
3. Consider Extra Features
Kitchen sinks are pretty basic, but a new one gives you a chance to add on some extras. For example, multi-speed faucets let you vary the pattern of water flow making it easier to clean the dishes, while a sink without a garbage disposal could probably stand for an upgrade.
Call in a Professional
Installing a new kitchen or bathroom sink is a job best left the pros…otherwise, you could be left to deal with a whole slew of other issues! Only a professional plumber has the tools, training, and experience to match you with the sink that best meets the needs of your space and can install it accordingly.
And sure, there may be plenty of amateurs willing to perform these services for you but remember, sometimes an attempt to save money could end up costing you much more in the long run. It's better to call in a professional and get the job done right the first time around. Trust us, when it comes to your plumbing, you don't want to take any risks.
Schedule your plumbing services with the team at Brooks Plumbing Company today.