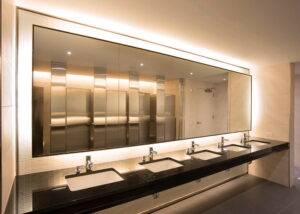 When you have a plumbing problem in your home, you're hopefully able to get it resolved pretty quickly and affordably, relatively speaking. Relative to what, you ask. Well, relative to if you own a commercial property that has a plumbing issue!
We know, we know… it's not pleasant to think about it. But the fact is, plumbing problems are non-discriminatory. They can happen in any building. This is especially true in older structures that have old pipe materials like galvanized steel that can corrode faster that the pipe materials used today, like PVC or PEX.
Why should you hire a pro when you need a commercial plumbing repair, though? Couldn't you just trust your building's general maintenance personnel? Well, you could, but they wouldn't be able to guarantee their work, nor would they be able to do the work efficiently.
Our professionals have extensive experience working in commercial spaces of all kinds and can repair your plumbing with as minimal business interruption as possible. Read on to learn about what kind of commercial plumbing problems we deal with!
Plumbing Emergencies
Let's face it, no plumbing problem–especially a commercial one–happens at a convenient time. But what constitutes an emergency?
Whether your structure is an office space, a restaurant, or a multi-family apartment building, one thing you don't want to deal with is backed-up toilets. This can be the sign of a sewer line problem, and you'll want to have it addressed sooner rather than later.
Water  Heater Problems
Commercial water heaters endure a lot of strain due to the demand placed on them. This is why it's essential that you have an experienced team who has worked before with these particular systems, to handle your commercial water heater repairs and service.
Burst Pipes
This is more of a wintertime problem and doesn't happen too often in the Olympia area, but it's an important one to be aware of. Exposed pipes can freeze if temperatures are too cold for too long. When those frozen pipes start to thaw, it creates a negative pressure that causes the pipes to burst, and your commercial space is left with a messy and expensive problem.
While we're still a ways off from worrying about this, it's never too early to reach out to a commercial plumber to inquire about how to prevent frozen pipes in a few months!
The Danger of the "DIY" Approach
We get it–plumbing repairs are expensive and your overhead costs take a hit when you need them. But the fact of the matter is that trying to fix plumbing problems in your business or commercial space can do more harm than good, and you might end up needing to call a plumber anyway to fix subsequent problems.
DIY approaches can also be harmful. For instance, you may think that your clogged-up sinks can just be resolved with liquid drain cleaner you can order from the store or online. These are actually made up of caustic chemicals and can corrode your pipes.
Please don't hesitate to reach out to our pros when you need commercial plumbing repair!
When you're ready to schedule professional commercial plumbing repair in Olympia, WA, look no further than Brooks Plumbing Co. Contact us today!