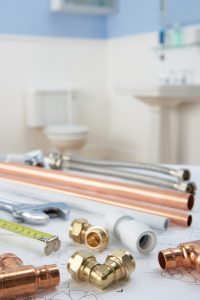 Over the course of the years, many advancements have been made to indoor plumbing to further improve how fresh and wastewater are transferred to and from homes throughout Olympia and beyond. For many decades, the type of piping materials most commonly used included clay, cast iron, and galvanized steel. But each has fallen out of use by professional plumbers due to their tendency to break down or corrode.
So if you are looking to schedule a new Olympia plumbing installation to replace your existing pipes (this service is called repiping), it's probably because your home was built in a time that these materials were still common, and your current plumbing is in danger of failure from corrosion. Fortunately, when you call on our team for this service, you can count on our plumbers using the right material, to ensure that your new plumbing lasts for many, many years. So, what are these materials?
Copper
This tends to be the most common type of metal used in plumbing systems today. Copper is used for hot and cold tap water, as it can effectively handle both—while older piping is more susceptible to corrosion from hot water. Copper is lightweight, easy to work with, and as a result, costs less than other types of metals.
Soft copper, also known as ductile copper, is easy to bend to make it easier for our plumbing to lay in new pipes. However, most water-carrying pipes do consist of rigid lines. Copper is resistant to corrosion, which is one of the main reasons it replaced steel. This doesn't, however, mean that it is corrosion proof. There are some types of corrosion that can still impact copper, like pitting corrosion or damage from liquid, store-bought, drain cleaners. We'll get to that below!
CPVC (Chlorinated Polyvinyl Chloride)
This is a type of plastic tubing that most homeowners are familiar with—if not by name then at least by sight. It's becoming more popular due to its corrosion-resistance, even at higher temperatures. This makes it a great choice for hot water piping. It's also flexible, and easy to shape to fit most spaces.
PEX (Cross-Linked Polyethylene)
This is the newest type of plastic piping, now in regular use in the plumbing community. It has a number of various benefits for both residential buildings and commercial alike. It's very flexible and does not require elbow joints the way that CPVC or copper pipes do. It also costs less than the other piping options (usually by about 25%) and is not susceptible to corrosion.
Like copper, PEX piping is good for either hot or cold water piping and requires less labor since the pipes don't need to be soldered together, which makes for a quick and convenient installation.
Stay Away from Liquid Drain Cleaners!
No matter what type of piping is running through your complex plumbing system, you can bring all to a halt by using chemical, store bought drain cleaners. That's because these chemicals are caustic. Sure, they eat through a clog (though, don't effectively remove it), but that also means they eat away at the lining of your pipes—until you're left with corroded plumbing and subsequent leaks. Contact our team for professional, effective, and long-lasting drain cleaning that doesn't rely on these store-bought "solutions"!