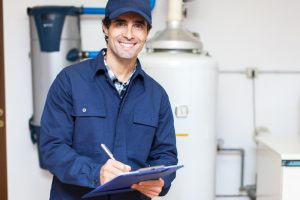 So you want to DIY install a water heater. You've seen a few YouTube videos. You've got your eye on the model you want at the big-box hardware store. You consider yourself a fairly handy person. You're thinking, "Why shouldn't I install my water heater myself?" 
Well, we're here to tell you the many reasons why DIY water heater installation is a bad idea no matter how many tutorials you've seen. From needing a permit to the many safety hazards, installing a water heater yourself is risky for several reasons.
What Could Go Wrong?
There are many things that can go wrong with a DIY installation job. These include:
Not installing gas lines and valves correctly can result in gas leaks which are hazardous to your health and potentially deadly.
Improper installation of the temperature and pressure relief (TPR) valve can result in your water heater exploding.
DIY installation voids the warranty and also risks major damage to your new, expensive water heater.
Any damage that results from a DIY installation (such as fire, explosion, water damage, or gas leaks) won't be covered by your homeowner's insurance.
We could go on, but we suspect you're beginning to see the reason why you should leave water heater installation to professionals: it's just not worth the risk! Not to your family and not to your home.
What's Involved with Professional Water Heater Installation
Here are some of the things involved with getting a new water heater. When you rely on a professional plumbing company like ours, you can rest assured that the installation will be safe and effective.
Size: Maybe your household has changed and the demands for water in your home have increased or decreased. We can properly assess what size and type of water heater you'll need to help you select the perfect water heater for your family.
Location: A 24-inch minimum perimeter that's free and clear around the water heater is required. We'll assess its previous location and make suggestions if it was improperly installed in an inadequate location.
Earthquakes: WA state's earthquakes mean that your water heater needs to be braced correctly to guard against potential damage. 20-gauge seismic bracing will help protect your water heater in the event of an earthquake.
Temperature and pressure relief valves (TPR): Water pressure is one of the trickiest parts of the installation process. If the pressure relief valve isn't installed correctly or are even under/over-tightened, it can spell disaster. We'll handle this difficult aspect of the installation process for you.
Gas water heaters: If we're installing a gas water heater, you can rest assured that we'll adhere to safety regulations with its installation. This includes making sure the gas lines are installed properly and that there's sufficient ventilation.
Pans and drain lines: Leaks can be disastrous without the proper precautions. If your water heater is on a platform or in an internal area, we'll install pans and drain lines to guard against potential leaks.
Pipe insulation: We'll make sure the water heater and surrounding pipes are insulated for optimum protection and monetary savings.
We hope we've convinced you why water heater installation is best left to professional plumbers.
For professional water heater installation in Olympia, WA, contact Brooks Plumbing Co. today!