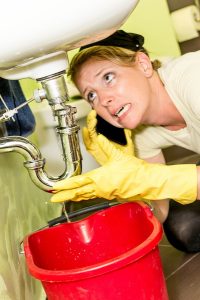 No matter what plumbing repair or service needs you may have, they are likely going to be complex. And if you hire the wrong team for the job, the results can be detrimental to your plumbing system and to your home. Even something as seemingly easy as unclogging a drain can go wrong without the right equipment, training, and expertise. Still, though, we get how tempting it is to "save a few bucks" by hiring a standard handyman, or even a neighbor who is really enthusiastic about DIY projects.
We're here to encourage you to consider how important it is to hire a licensed, insured, and experienced Olympia plumbing company when you need any sort of plumbing work done on your property. Sure, it can seem like a good idea to save some money upfront. However, in the long run, hiring the wrong plumber can cost you more.
Why Licensing Is Important
For most plumbing services, a state contractor license is legally required. Of course, this can depend on the scope of the job in question. But in general, only state-licensed plumbers are allowed to advertise work within the trade. This licensing implies that the plumber you're hiring had ongoing training, proper examination, and comprehensive experience so that they can handle any plumbing woe that comes their way.
Don't Forget about Insurance
Licensed plumbers are also required to be insured, in order to work in homes in your community. Licensing generally requires—at a minimum—general liability insurance coverage for plumbing contractors. But what does this mean for you, the homeowner?
This means that you are protected if that plumber gets injured on the job or on your property while performing the job. You're well within your rights to ask for proof of insurance from a plumber, before they begin work in your home.
How Much Training Have They Had?
This is perhaps the biggest and most important difference between a general handyman or do-it-yourselfer and a professional. Professional plumbers go through years of training in order to handle plumbing jobs of all kinds efficiently and effectively, and to be able to avoid problems as best as possible.
They work under the watchful eye of more seasoned master plumbers, and through them, they learn how to diagnose and repair any plumbing issues, including those that can be unique to your home or city—for instance, if your plumbing is prone to hard water, water contamination, or even flooding.
What Can Go Wrong with an Amateur Plumber?
When you choose an amateur for the job, you could be left with surprises you never wanted. Problems can stem from your handyman:
Choosing the wrong tool to alleviate a clog or fix a leak, thereby causing further damage to your plumbing system.
Lacking the right inspection equipment, rendering them ineffective in actually repairing the problem thoroughly.
Doing a poor job on a plumbing fixture repair or appliance installation, leading to premature repair or replacement needs.
Failing to follow local building codes due to ignorance of those codes. This will lead to problems later if you decide to sell your home.
When you want a reliable plumber, reach out to Brooks Plumbing Co. Contact us today!