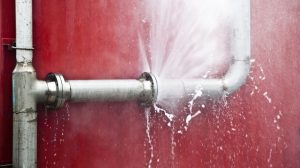 Have you ever had a plumbing problem that just couldn't wait? The fact of the matter is, when emergencies like this happen, it's never at a convenient time. As much as we would like, leaks, clogs and other disruptive issues just don't always make themselves known during "normal business hours!" Because your plumbing system is so vital to the functionality of your home, you may find yourself in need of Olympia, WA emergency plumbing services.
But what constitutes as an emergency? Should you call for any given plumbing problem? Obviously, a burst pipe with no access to a shut-off valve is cause for an immediate call, but is a dripping faucet worth it? It will depend largely on your specific situation whether or not emergency services are needed, but we've offered some guidelines below on the most common emergency calls we receive.
The Sound of Running Water: If you hear water running, but no taps are on in your home, then give us a call. This could be a leak behind your wall or beneath your flooring—a slab leak—and can do significant damage to your property if not addressed quickly.
Overflowing Toilet or Sewers Backing Up: A sewer line blockage can lead to a very messy and potentially costly plumbing repair need. Seeing sewage back up into your drains is never a good sign.
No Hot Water or Leaking Water Heater: While this problem might not end up being anything serious, water heater issues can be dangerous, particularly if you have a gas-powered system. The first step you should take is turn off the hot water heater's energy source, and then don't leave this problem to chance—give us a call!
How to Handle an Emergency Until Our Plumbers Get There
If you have access to do so, the very first thing you should do in a plumbing emergency is to find the main water shut-off valve, that cuts off the water supply to your whole home. Each family member within your household should know where this is, and how to use it. The instant there's any sort of trouble with your plumbing, shutting off the water will help keep the issue from getting worse.
In some homes, individual plumbing outlets will have their own shut-off valves that cut off water to them, while keeping it running in the rest of the home. If you're positive that the problem is localized to just one outlet, you could use that valve instead of the main valve.
Emergency Services Offer a Peace of Mind
As we mentioned, there are some instances in which it's not going to be worth your time or inconvenience to call for emergency plumbing services. For example, if you have a slowly dripping faucet or you have a leak from a single outlet that you were able to shut off on its own.
But when you do have an emergency, it's important to know that you have a team on your side that's ready to jump in and help. Even if you're unsure if your particular plumbing situation is an emergency or not, go ahead and give us a call. It's always better to be safe than sorry.
For high-quality plumbing services, contact Brooks Plumbing Co. today!