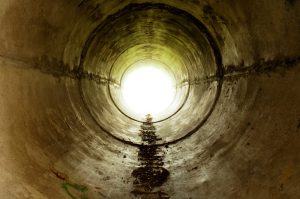 Have you ever wondered how plumber can diagnose problems with pipes that are hidden from view? Chances are you haven't, but now we're inviting you to think about it. You might have a vision of plumbers busting into walls and totally up-heaving your home or property in order to find the source of a leak or a clog.
Obviously, this is not an ideal situation, and something you'd like to avoid (and may avoid or put off calling for professional services if you suspect a problem with your plumbing in Yelm.) We're here to put your mind at ease. The fact is, when your professional plumber is equipped with the right video pipe inspection equipment, and they have the skill and training needed for adequately using that equipment, you needn't have these concerns. Keep reading, and when you suspect or discover problems with your pipes, give our team a call!
What Is Video Pipe Inspection All About?
Video pipe inspection is pretty simple in theory (though not necessarily in application, which is why we recommend calling a pro). Essentially, our plumbers use a flexible rod setup that's easily fed into your drain and/or sewer line system. At the tip of this rod is a small video camera. This video camera is able to send a live feed of images back to a monitor that your plumber reviews in real-time. If needed, it's possible to store this video footage and the images for further investigation. This is really all there is to it!
Again, however, just because it sounds easy doesn't mean it's as simple as that. Our professional plumbers are trained in how to use this equipment correctly, and navigate your system successfully. Also, it's not exactly beneficial to view this type of footage if you don't know what you're looking at!
The Benefits of Video Pipe Inspection
Let's face it, nobody would offer this service it if didn't provide homeowners with tangible benefits. Using video pipe inspection equipment is very helpful in a few scenarios. The first is diagnosing issues with your drain or sewer system in the first place.
Just because you notice a specific symptom, like a backed-up or even slow-moving drain, doesn't mean there's going to be a clear cut and easy way to resolve the problem. Using video pipe inspection equipment enables our pros to determine exactly what the problem is and how to effectively resolve it with as little disruption to your plumbing system and your home as possible.
Some more good news is that the tools we have to relieve clogs and even reline your pipes if needed are relatively unobtrusive as well. Hydrojetting, for instance, involves putting an omnidirectional auger down your drain to blast away any buildup that's created a blockage in a drain or sewer system. This helps reduce the chance of problems later, too!
Whether you're dealing with a suspected leak or a known plumbing problem, for expert plumbing services, you needn't look any further than Brooks Plumbing Co. Contact us today!