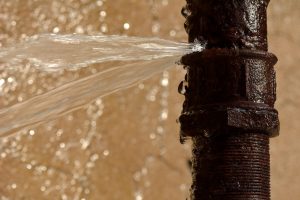 Plumbing issues can often be hard to detect without professional equipment and experience. In fact, they almost always are. Most of your Rainier, WA plumbing system is hidden from view, after all, and the problems that usually impact it are subtle to start with—pinhole leaks being one of those problems.
This is a big part of the reason we suggest scheduling preventive plumbing maintenance at least once a year. However, you should know the warning signs that you do have a problem with your plumbing system. A pinhole leak, as we mentioned above, is a fairly common plumbing problem. And while its impact isn't always felt right away, as it continues or grows in size, it can have big consequences, such as:
A Drop in Water Pressure
Loss of water pressure is never a good sign for your plumbing system. While it would take more than a single pinhole leak to cause this issue, it's worth noting that whatever caused the pinhole leak to form in the first place may be impacting other parts of your pipes, or may have grown in size, which can certainly lead to the loss of water pressure.
Slow loss of pressure over time is the best indication of a leak that is growing bigger. Water pressure loss can also be caused by a blockage in your plumbing system somewhere. We definitely recommend contacting a professional plumber as soon as you notice this problem.
A Running Water Meter with No Running Water
This is actually one of the easiest ways to detect a leak on your own. Turn off all the plumbing appliances within your home, and then check your water meter. If it is still running, then water is very likely still leaving your system somewhere, such as through a pinhole leak!
Water Damage
This is unfortunate but ultimately sometimes a sign of a problem that has progressed over time. Many plumbing problems only become noticeable by homeowners after they've gotten far enough along to start inflicting property damage.
Pinhole leaks are usually only found after they've rotted out the surrounding area with water damage. If you've noticed any signs of water damage on your walls or ceiling, then we urge you to call in a professional to have a look at the problem ASAP. The longer you wait, the worse the problem can become.
As is always the case with any type of plumbing issue, it's better to be safe than sorry. This means you should call a professional plumber as soon as you have reason to suspect that something is wrong with your plumbing system, whether that be a suspected pinhole leak, massive clog, or broken pipe. The faster our plumbers can get to the problem and fix it, the better off your plumbing system and your home will be.
For plumbing services you can depend on, contact Brooks Plumbing Co. today!