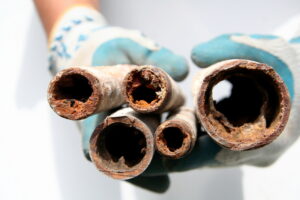 Have you ever heard of repiping? This is the plumbing process where all your faulty piping in your home is stripped down and replaced with all new pipes. In most cases, this doesn't mean that your professional plumbers can just pop into one section of your home and replace a small length of plumbing–if all your plumbing is aging, chances are we'll have to replace all your pipes.
Repiping, then, isn't one of those services you want to just jump into. First, you want to know that you actually need it! We can confirm this for you, but in the meantime, we have some signs for you to watch out for that indicate you may in fact be in need of this plumbing service. Read on to learn more!
The Leading Indicators of Repiping Needs
So, how do you actually know if you need repiping? These are some of the signs that this may be the case.
Sign #1: Your Home Is 50+ Years Old
Do you live in a home that was built prior to the 1960s? Then it almost certainly needs repiping if this service has never been done before. Vintage homes such as this typically have pipes that are made from galvanized steel, or cast iron in some cases. Even though this is a highly durable material, it is susceptible to corrosion over time.
Fifty to 60 years is more than enough time when your home's pipes can begin to decay. Replacing outdated material with copper and plastics such as CPVC and PEX piping will give your plumbing a whole new lease on life.
Sign #2: Your Water Pressure Is Declining and Clogs Are Increasing 
Residential plumbing systems consist of two parts–the freshwater and the wastewater systems. If the piping in your household has declined because of age or even poor materials, then you will notice problems on both sides of the plumbing system. Water pressure from the taps can start declining, and clogs and slow drains will become more frequent.
Call in a plumbing professional to examine your pipes and see if the time has arrived for you to invest in repiping for your home.
Sign #3: You've Needed Leak Repair in Multiple Areas of Your Home
Have you been calling for leak repair a few times a year? Are these leaks all isolated to one area of your home, or are they occurring everywhere–slab leaks, bathroom plumbing leaks, kitchen sink leaks, etc.? If the problem is widespread, this is a very clear sign that your pipes can't handle the daily demands placed on them anymore.
This can end up being a really expensive problem to have, and most times it makes more financial sense to go ahead and invest in repiping rather than paying for leak repair whenever you need it.
Schedule Plumbing Maintenance!
When you have your plumbing system routinely maintained by trained and experienced professionals, we can check and make sure everything is in good shape. We can also let you know if repiping might be on the horizon. This can give you time to budget for the job, or even do it piece by piece, starting with the section of your plumbing that is worse off.
Please don't hesitate to reach out to our team for these services!
Brooks Plumbing Co. is your trusted resource for Olympia, WA repiping services and more. Contact us today!