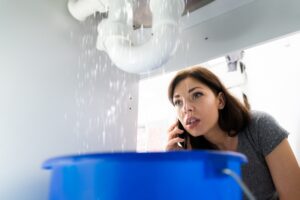 Spring and summertime are often popular seasons for homeowners to make upgrades to their homes. Have you been considering one yourself? Maybe you're tired of the dated look in your bathroom, or you want to start using more efficient plumbing appliances. Whatever the case, you've found the right blog post, and the right plumbing team to help you out.
When it comes to remodeling your bathroom, you want to ensure that all aspects of the remodel are overlooked by a trained and experienced professional. This is the best way to avoid mistakes and get the most out of your bathroom area.
Our Plumbers Can Help!
If you are looking to upgrade your bathrooms' plumbing system, we want you to know that you can come to us for help! First off, we'll help you avoid mistakes that people often make when trying to remodel without professional expertise. This includes not getting the right sized toilet, not sloping the shower floor correctly, and not leaving adequate room for certain plumbing appliances. Secondly, we can help you with updates like:
Toilet Upgrades: Have you dealt with leaky toilets? Or maybe your toilet isn't leaking, but it's old, yellowing, and you're wondering if it's very long before it starts cracking. Whatever the case, we're the team to help.
Repiping: The plumbing pipes that work to provide water to the toilet, shower, sink taps, and drain pipes that whisk away wastewater are all vital to your bathroom functionality. Without each of these components, the bathroom would be unusable. If you have aging pipes that need to be replaced, there's no time like the present to get our help with repiping!
The Installation of Low-Flow Fixtures: The desire to save water and subsequently save money is becoming more widespread these days. If you want to do the same, then low-flow fixtures are one of the best ways to accomplish this. When you upgrade your bathroom, don't forget to upgrade the fixtures as well. We can ensure that your faucet taps, showerheads, and even your toilet are all helping you save gallons of water each year.
Repairs: Let's not forget repairs! If you're remodeling and upgrading your bathroom, the last thing you want to do is ignore that leaky pipe beneath the sink, the clogged up bathtub drain, or the crack in the porcelain of your bathtub. Our professional plumbers can help with all of this. Remodeling your bathroom should never mean bypassing any repair needs you might have. Ensure you enjoy a bathroom that looks good and is fully functional!
Trust in Our Quality
At Brooks, we warranty all of our work and are always prompt with dealing with any issues that arise. We want your experience with our team to be simple and uncomplicated. We believe that we only win if our customers feel the experience was a success, so that's what we strive for! We base every decision on what will best serve our customers, and we exceed expectations every day.
For professional help with your bathroom plumbing in Lacey, WA, contact Brooks Plumbing Co. today!