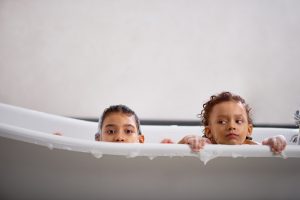 Have you ever been brushing your teeth, washing your face, or taking a shower and suddenly there was gross water bubbling up and out of your drain? If the answer to this question was "Yes", then you definitely have a backflow problem on your hands.
See, backflow is a serious, not to mention yucky, issue faced by homeowners, which is why installing a backflow prevention device is a great idea. In fact, there are quite a few reasons why you should consider installing one of these devices in your home, and below, we've explained it all for you. All you have to do is keep reading to find out more, and of course, remember to call us when you need backflow prevention in Olympia, WA.
So, What Exactly Is Backflow?
Normally, your home's plumbing and sewer systems work in one direction. Water flows through your home's plumbing system, through your appliances, then down the drains into the sewer line and out to either a septic tank or the city sewer main. A balance of pressure between the two systems keeps the water flowing in one direction.
However, backflow occurs when there is a sudden disruption in that pressure balance. This can be caused either by a sudden increase in the sewer line or a decrease in the plumbing system. This forces sewer water back up through the plumbing system and into your home, contaminating the pipes that deliver fresh water to you and your family.
Backflow Prevention Devices Work!
Hopefully, by now, you see the benefits of having a backflow prevention device in place. There are a variety of different backflow prevention devices available on the market. The most common of these is a one-way valve that sits in the sewer line. When backflow occurs, the valve snaps shut to prevent the water from contaminating the rest of the home's pipes. A backflow prevention device can help keep you healthy, as well as helping to save you money.
Hire a Professional
If you are interested in preventing backflow problems in your home, be sure to hire a professional plumber ASAP! Trust us, only a professional plumber has the tools, knowledge, and expertise to handle the complex needs of your plumbing system, the first time around. Plus, they'll be able to match you with the backflow prevention device that best suits your home's unique needs.
And of course, there are going to be plenty of amateurs willing to service your plumbing system for a questionably low price, but do not let them! Sometimes an attempt to save money could end up costing you much much more in the long run. Remember, when it comes to your comfort, your health, and your budget, you really don't want to take any risks! So, what are you waiting for? Call our team today!
Ready to schedule your plumbing services with a team of professionals? Great! All you have to do is contact Brooks Plumbing Company today to get started! Quality in Everything We Do!