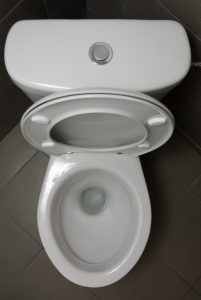 If there's any plumbing problem you'd want to face less than any other, it's likely a malfunctioning or overflowing toilet. Toilet problems are among the most unpleasant and messiest problems that a home plumbing system can face. That being said, it's important that you keep a close watch for signs that your home's toilet needs repairs from professional plumber.
And sometimes, you might need Olympia, WA bathroom plumbing services beyond a simple repair—your toilet may need to be replaced altogether. At some point during your homeownership, it's far better to have an old an inefficiently working toilet torn out, and a new one installed. But do you know the signs?
Frequent Clogging
When you hear of a toilet clog, you likely suspect that the culprit is something that got stuck down in the drainpipes—sanitary wipes, diapers, or large objects that were knocked into the toilet by accident. But chronic clogging is something that actually occurs in aging toilets for a different reason—they can no longer provide powerful enough flushing. If you've found yourself using a plunger a few times a week just to get the toilet working, then it's probably time to have a new toilet put in.
You Don't Have a Low Flow Toilet
How old is your toilet? If it was installed before the mid-1990s, it likely uses about 3 ½ gallons per flush—or even up to 6 if it's any older than that. Newer toilets use less water—in fact today's low-flow toilets can use as little as 1.6 gallons per flush. Be sure to check you water bills, and consider how much of it is going to the toilet. While the installation of a newer toilet may be costly upfront, what you'll save on your water bills can more than well make up for it.
Your Toilet Has Cracks or Chips
If your toilet starts to leak even the smallest amount of water, chances are that there's cracking or chipping somewhere along the porcelain. If you do find cracks, it's important to have a professional take a look. While there are times that the leak and/or cracks can be repaired, oftentimes it makes more economical sense to replace the toilet altogether.
You Have to Make Frequent Repairs
This rule holds true for just about any appliance or plumbing fixture—if you find yourself making repairs on a regular basis, then it's almost always more cost-effective to have it replaced.
A general rule of thumb is that if your next repair is going to cost you more than half of what it would to purchase a new toilet, then it makes more economical sense to purchase the new toilet—especially when you consider the water conservation and energy savings you'll see as a result.
Remember, even the best and most professionally installed plumbing fixtures will eventually need a repair or two—and when that happens you can turn to our team!
Contact Brooks Plumbing Co. today for all of your professional plumbing service needs.