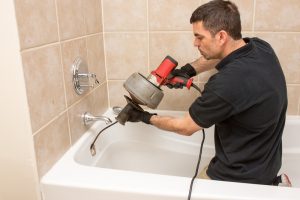 Drain clogs are one of those Yelm, WA plumbing problems that practically all homeowners have to deal with at some point. But clogs are also one of those things that many people deal with the wrong way. When a drain clog forms in the average home, homeowners are, more often than not, tempted to reach for some type of store-bought drain cleaning solution to manage the problem.
Unfortunately, this is not a great way to deal with it—in fact it can do more harm than good. Keep reading to learn why you should only trust a pro for this type of plumbing issue.
The Ill Effects of Store Bought Drain Cleaners
Do store-bought solutions work? That's a bit of a loaded question. Do they clean out clogs? Sure! But they use corrosive chemicals to do the job, and they don't actually remove the clog. The chemicals in these store-bought solutions eat through whatever's clogging the pipe, but it doesn't stop there.
Prolonged use of store-bought drain cleaners will degrade the pipe, eventually to the point where it might have to be replaced years earlier than it would have had to otherwise. The chemicals found in these cleaners aren't good for your health or safety either—it's actually pretty common for people to get sick from, or at least have eye irritation from, these chemical cleaners.
The Professional Drain Cleaning Answer
Professional plumbers are very familiar with the fact that store-bought drain cleaning solutions aren't a solution at all. That's why you'll never find us using corrosive chemicals in our drain cleaning services. Rather, we'll make use of a variety of more effective drain cleaning methods. For instance, we may use a drain snake—this means using an auger on a long cord to drill through any clogs that exist in the pipe. This is often the easiest way to remove clogs.
But sometimes, it takes a bit more than that—this is where hydro-jetting comes in. A hydro jet is essentially a thin hose with an omnidirectional sprayer head attached to it. The hose sprays a high-pressure stream of water into the pipe, hitting all areas of the pipe walls and blasting any waste buildup out of the system. This method has become increasingly popular over the years, since it removes the current clog, but also makes it harder for further clogs to form later on.
It's important to realize, however, that some pipes can't actually withstand the pressure of hydro jetting, so there is still some variance in which solutions are used. This is why it's imperative that you contact a professional for the job. We'll be able to help you make an educated decision about what drain cleaning method is right for you, whether you have just one stubborn clog, think that your sewer line might be blocked up, or just want to schedule a routine drain cleaning to fend off any potential future clogs. The latter choice is a great way to save money on potential plumbing emergencies later one!
For exceptional plumbing services you can count on,
contact Brooks Plumbing Co. today!